DISC BRAKE KITS
Early Broncos came with perfectly adequate brake systems for their time. The problem is that period of time was 40 years ago. Now add much larger and heavier than stock tires and rims into the mix and you would be lucky to get your truck to stop by slamming into an immovable object (tree, house, parked big rig). One of the best and most important upgrades you can make to your truck is a much more modern disc brake swap. We have them for both the front and rear.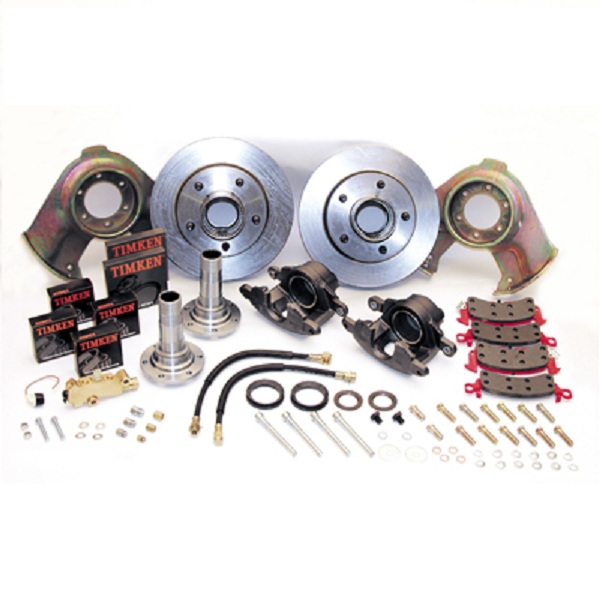 Front Disc Brake Kits
Want to add some WHOA to your Bronco's get up and go? You will be happy to know that the WH front disc brake kit will work on the Dana 30 or the Dana 44. This means you can install the brakes on your 30 and if you upgrade to a 44 in the future you can just transfer the brakes over to the new front end. You will have noticeably improved braking characteristics over the stock four wheel drum setup. Our kits use ALL NEW parts, nothing is used or rebuilt and there are no added core charges.
The standard kit comes comes with caliper brackets, calipers, pads, spindles, assembled hub and rotors with bearing races installed, hoses, hardware, and instructions.
Standard with wheel bearing is the second option.
The deluxe kit consists of the standard kit and also includes the pressure valve and fittings.
The super deluxe kit (as pictured) includes the pressure valve and fitting kit with wheel bearings.
So you may be wondering why wheel bearings are optional. You will be glad to know you can use the same wheel bearings you have now. We recommend you replace the wheel bearings at the time of the disc install unless you have replaced them recently.
Use the pressure valve if you are going to run front disc and rear drum brakes. With discs on the front and rear, you can either reuse your stock valve or go to our proportioning valve for that setup as well.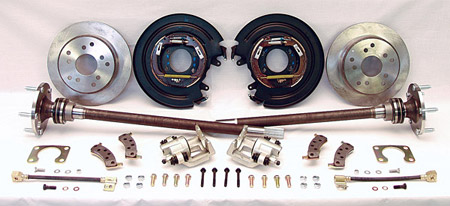 Rear Disc Brakes With Axles
A bolt-on rear disc brake kit will add stopping power to your Bronco. Our kit features all new parts including a set of our Extreme duty 31 spline rear axles.
Why does our kit come with axles? Kits which do not come with axles rely on the axle studs for centering the rotor. The pilot on the axle is too small. Not one of the OEMs do it this way and the reason is simple. It's best to center your rotor on a correctly sized pilot in the center of the axle. This ensures little chance of vibration which could be caused by an off centered rotor. With the WH kit you get the correct bearing offset and rotor pilot.
You will need to upgrade the differential to 31 spline if this has not already been done. E-brake cables are also available for the kit. This kit will only work on Broncos equipped with large rear wheel bearings.
We have two versions of this kit, the standard 66-77 large bearing with the 1/2" axle retaining bolts or the 74-75 large bearing with the 3/8" axle retaining bolts.
This kit is not compatible with stock rear shock mounts. You will need to use our rear hoops, inboard hoop, or relocate the stock rear shock in the forward direction.
28 and 35 spline kits are available by special order.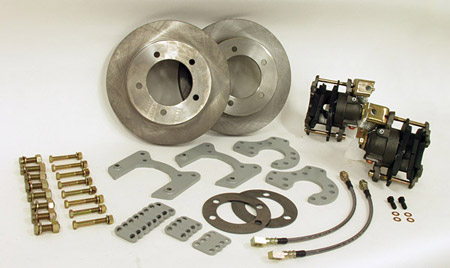 Rear Disc Brakes Without Axles
Item 3061 is a great kit that you can use without changing your axles. It is available with or without emergency brake capacity. It fits stock and aftermarket Ford 9" housings. Please specify whether your bearing retainer has 3/8" or 1/2" holes. It includes all new parts. 5x5.5 bolt pattern rotors, caliper brackets, calipers, WH DOT brake hoses in rubber or stainless steel braid, bracket spacers and all necessary mounting hardware.