FRONT END PARTS FOR DANA 44
66-77 Broncos came with the Dana 30 (66-71 1/2) and the Dana 44 (71 1/2-77). In 1976, Ford equipped the Dana 44 with disc brakes. The easiest way to identify which front end you have is to look at the steering knuckles. The Dana 30 uses king pins which are held in with four bolts on the top and bottom. The Dana 44 uses ball joints which are held in with large nuts (see illustrations below).
While rare, there were a certain number of Broncos delivered with "hybrid" axles that used Dana 30 outer components with king pins and a Dana 44 center section and gears. These were found primarily on '69 and '70 model Broncos and the only way to tell for sure what you have in those cases is to verify the front cover design. The Dana 30 has a concentric shape, and the Dana 44 had an offset shape.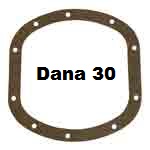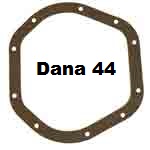 Dana 44 Front End Parts (71 1/2-77)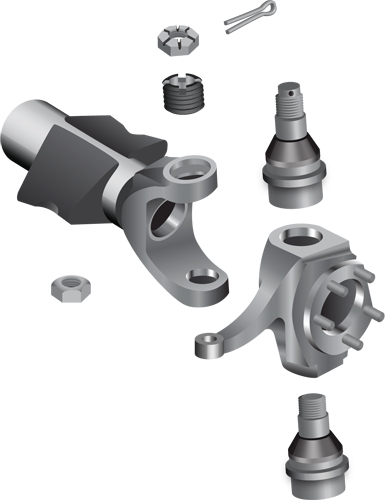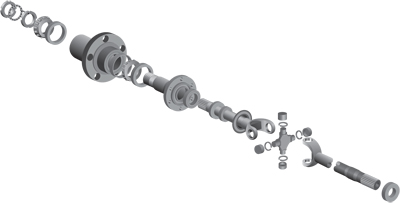 Note: All of the parts in this illustration will not apply to all years. Identify your front end and then check the part description for proper application.
Spindles
There are 3 different spindles that were used from 66-77. All Bronco Dana 30's and 71-72 1/2 Dana 44's use a spindle with the spindle/outer axle seal pressed into the back of it. These have 6 bolt holes. The 72 1/2-75's do not have the spindle/outer axle seal pressed into the back. It is located on the outer axle seal flange which is pressed onto the outer axle itself. These also have 6 bolt holes. The 76-77 disc brake spindle is easily identified by its 5 bolt holes. All new spindles come with spindle bearings.


Can't find what you need?

Welcome to WILD HORSES Four Wheel Drive your one-stop source for all of your Off-Road and other four wheeling needs. We began operations in 1989 by parting out a few wrecked early Ford Broncos, expanded into new replacement parts and then started designing improved parts to replace the parts we kept breaking out on the trail.

WILD HORSES 4X4 was built by four wheeling enthusiasts for four wheeling enthusiasts; we install and test our products and demand the same from our parts as you do. We offer the products you need - tested tough, track-ready and shipped same day 98% of the time (just order by 2:00 PT).

We believe our suspension systems, steering systems, and brake kits are the best available for your 1966-1977 Early Ford Bronco or your 1978-1979 Full Size Ford Bronco 2WD or other four wheel drive and won't disappoint you out on the trail. Whether you are a classic car enthusiast, a die-hard Off-Roader, or just a daily driver, WILD HORSES will have what you need to make your four wheeler your favorite drive.