Ford saw the need for power brakes on the early Bronco. Power brakes were optional for the 1976 and '77 model years. A vacuum booster did the grunt work in the system. That's when the stock tire size was 78-15 (small). WILD HORSES offers a Power Brake System for 66-77 early Ford Broncos.
Hydroboost Brake Systems
Today there are a whole lot of us who choose to run large tires (33's, 35's, 37's, 40's etc.) and we want good brakes too! The vacuum boosters are just inadequate for our needs.
When we installed our first Hydro system we were literally shocked at how well it worked. You will be too! The WH Hydroboost System consists of all brand new parts. Nothing rebuilt! Three different firewall adapter plates are used which bolt the system into the stock holes in your firewall. We recommend choosing a complete system, step by step, for its convenience and hassle free installation. You can, however, choose just the parts you want.
Step #1 Select a Firewall Mounting Style.
For the 289, 302, or 5.0 carbureted motor and you do not plan on changing the motor to Ford EFI, select the 289/302.
If you are running a 5.0 Ford EFI Mustang style with the air cleaner and throttle body on the passenger side select the 5.0 EFI. Our system will not clear 5.0 EFI with the air cleaner and throttle body on the driver's side.
If you are running or plan to run a 351W/5.8 select the 351W. Please note that the 351W setup will require slight firewall modifications to mount the unit.
(You will have to make the hole in the firewall a little bigger; this takes about 5 minutes with a die grinder.)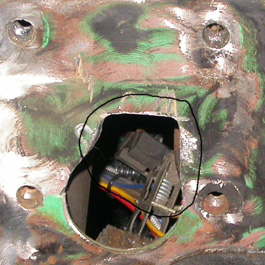 Sorry for the hideous looking firewall. There was so much factory black gunk that it required heavy use of a sander. The encircled section shows the area that will need to be modified when using the 351W System. A template for the modification is included with the 351W setup. Also note that the picture above is the finished result.
Step #2 Select Hydraulic Hose Set.
We recommend that you add our hose and fitting kit to your system. It will include custom Aeroquip stainless steel braided hoses and all the appropriate fittings for your steering box and pump. The hose kit even comes with the cool billet hose clamps you see in the photo. You can select "No Hoses" if you desire.
Step #3 Select Custom Brake Line Set.
These are the hoses from the master cylinder to the proportioning valve. These are custom made to order at WH. Each set is specifically designed for your application based on the information you provide. Select Rubber or Stainless or you can select the No Hoses option.
Step #4 Select Master Cylinder.
Pick your master cylinder for four wheel disc or front disc with rear drums.
Step #5 Information Required.
We will need the answers to the following questions so we can provide you with all the correct fittings, adapters, etc. and so that your system installs correctly with your existing components. Either call us at 209 943-0991 during our regular business hours, or provide the information in the general information section of your order. Either way, please include your phone number so we can call you if we have any questions.
1. What type of power steering box do you have? Is it mounted in the normal location?
2. What type of power steering pump do you have?
3. What type of proportioning valve do you have? Where is it mounted?
4. If you have a body lift, how much?
It is possible that you may not know the answers to these questions. That's ok, just call and one of our techs will help you identify your existing components. It's our goal to supply a complete system that can be easily installed.