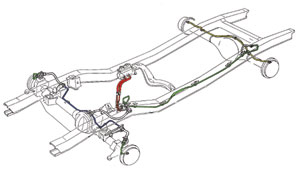 Stainless Brake Lines 67-75
Reference Drawing
to show positions of lines.
Our stainless steel hard line sets will replace every hard line on your Bronco. These sets also include hard lines to replace the brake hoses that run from the master cylinder to the valve. Slight bending of new lines will be required for proper fit. These sets have the same fittings as the stock hard lines and are designed to bolt into the stock locations. If you have a modified (non-stock) brake system some of the lines may not fit without the use of adapters. These kits do not include the flexible brake hoses. We have 5 different sets available. 66-67 with single reservoir master cylinder, 67-71 with Dana 30, dual reservoir master cylinder, 71-75 with Dana 44, 76-77 manual brakes and 76-77 power brakes. Individual pieces are available as listed.

Stainless Brake Lines 76-77
Reference Drawing
to show positions of lines.