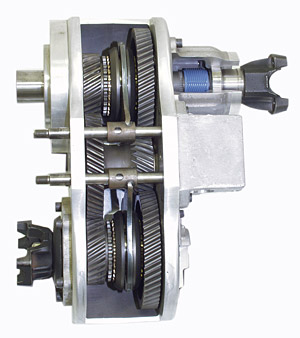 "Here's the beef "comes to mind as you look at the cut-a-way of the Atlas 2! Check out the massive gears! Also notice the synchronizing rings.


* Gear driven 
* 3.8 OR 4.3:1 low range
* Synchronized shifting
* Twin stick shifter
* Shift on the fly
* Large rear output shaft
The Atlas 2 is a fully assembled "ready to be installed" transfer case. It features fully independent front and rear drive synchronized shifting. The rear driveline will have to be shortened. The Atlas is about 3 1/2" longer than your Dana 20. The front driveline may need to be lengthened 1".
The Atlas will work with Bronco C-4's or transmissions that have been adapted using an Advanced Adapter that has a separate bearing housing which holds the transfer case input shaft bearing and seal. These include the C-4, C-6, AOD, NP 435, T-18, NV 3550 and NV 4500.
The Atlas will not bolt up to Bronco 3 speed adapters or 3 speed adapters that have been converted to be used with NP 435's. If you have a NP 435 with a converted 3 speed adapter, call for information.
If you are using the WH digital dash, we have an adapter kit to make these components compatible.
Want to run the Atlas with factory Ford EFI and you can't figure out how your speed sensor is going to work? No problem, the Wild Horses Extreme team has what you need.
You may want to consider a body lift to make your install easier but you can install the Atlas without one (very tight fit). Our techs are here to help with your install. The Atlas includes twin stick shifter.
T-case Length Comparisons
Dana 20
11 1/4"
Atlas 2 short tail *
11 3/4"
Atlas 2 long tail
13 3/4"
Atlas 4 short tail *
15"
Atlas 4 long tail
17"
*Short tail housing has no provision for speedometer cable or VSS