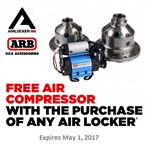 GET A FREE Compressor!
When you buy an ARB Air Locker!
Buy 1 Air Locker, Get an Air Locker Activation Compressor (CKSA12) - $190 Value
OR
Buy 2 Air Lockers, Get a High Performance Compressor (CKMA12) - $290 Value
In order to qualify and receive a FREE Compressor, purchase a new ARB Air Locker between March 1 and May 31, 2017, and receive a free compressor with your purchase directly from your dealer!
NO MAIL-IN FORM REQUIRED!
REBATE DETAILS