Tuffy Deluxe 8in Security Console Black
Item #: 3468
PRICE:
Description
Product Reviews
Q & A
This high security 16-gauge steel console has a spacious compartment for mounting a CD changer, storing tools, electronic equipment, cell phones and other valuables.
Please measure distance between adult-occupied seats before ordering.
NORMAL 66-77 BRONCOS WILL USE THE 8" CONSOLE.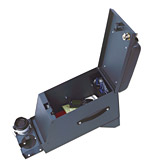 Exterior Dimensions:
24"L(includes cup holder), , 8"W, 18 1/2"H (includes 4" mounting bracket), 3 1/2" Holes for drinks.
Interior Dimensions:
(Length is Tapered) 15 1/2"L(top), 20"L(bottom), 7 1/2"W, 12"H
Tuffy 8
May 23, 2011 | By Garrett





Great Console. Mounted a stereo in it and it fits nice between my stock seats. Hardest thing is manuevering the passenger seat to let people climb in the back. I will porbably make my passenger seat release face to the outside in the future.
Write a review