MasterCraft Baja RS Front Seat BUILT TO ORDER
Item #: 3702NET

This item is BUILT TO ORDER and shipped directly from the manufacturer. Please allow the time specified above for the item to be delivered to you.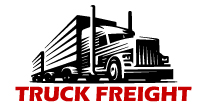 NOTE Shipping is not free. We will contact you within one business day by phone or email to advise you of the shipping charges and total. Your order WILL NOT SHIP until we receive your confirmation.
PRICE:
Description
Product Reviews
Q & A
The
CUSTOM MASTERCRAFT BAJA RS seats
are the first reclining suspension seats Developed for the Off Road Enthusiast. It comes in 7 popular color combinations: All Black, All Grey, Black with Red fabric, Black with Blue fabric, Smoke with Grey fabric, Smoke with grey and black fabric; and Desert Tan with Haze fabric.
Heavy duty, 9 Position Recliner - from Tilt Forward to Full Recline
Accommodates 5-point Safety Restraints, Anti-submarine strap slat and shoulder harness slats are standard, works with most 3 point restraint systems.
Fits up to 40" waistline comfortably and safely.
Full containment - Just like MasterCraft Racing Seats for Off-Road Champions - keeps you in the seat during the most spirited off road adventures.
Full Suspension Liner and Double Pirelli Seat Straps, the same as our all out Racing Seats. Provides superior feel to the seat and minimizes fatigue.
Every MasterCraft seat is made custom to order with particular options of the customer's choosing. There are slots for a 5-point restraint system including shoulder loops. A multitude of colors are available to compliment or contrast any color scheme.
It has been our experience that you should allow 3-6 weeks for custom orders.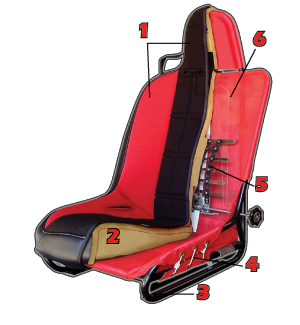 1.
MasterCraft seats are made from high-quality Rogue Naugahyde with a center insert of closeweave nylon fabric and slots for a 5-point harness system.
2.
Polyurethane foam of differing thickness and density is glued to the liner and built up to achieve desired shape.
3.
Mastercraft's rugged seat frames are constructed with mandrel-bent and Mig-welded 3/4" mild-steel tubing (.065" wall, HREW 1010)
4.
All stress points are double-lapped and grommeted for max strength. Liner is attached to frame and tied with nylon parachute cord.
5.
Your Mastercraft seat may be ordered with optional lumbar support. Fitted to seat frame, it offers up to 3" of adjustable lumbar support, and adjustment knob may be attached to right or left side.
6.
Suspension liner is made of a nylon-coated textile mesh that provides extreme strength and durability. The porous mesh will breathe and allow moisture to pass through.
Customizing Options
The Baja seats have a limited color selection. The vinyl material goes on the sides and back of the seat. The fabric material goes in the center and sides of the seat. Select your color combination and then add all of the options you desire!
All Mastercraft Seats include the features you see in the cutaway picture with the exception of the lumbar support.
Seat Sliders & Adapters
Unless you are going to do a complete custom install you will want to order sliders and seat adapters at the same time as your seats. The sliders bolt to the bottom of the seats and allow for adjustment forward and back. The adapters bolt into the original holes in the Bronco floor on the driver side and you only need to drill a couple holes for the passenger side to bolt in. These adapters have been designed to keep the seat as close to the floor as possible.
Headrest
You can choose the fixed headrest or the optional three-position, integrated, adjustable headrest.
Lumbar Support
Add the Schukra lumbar support as shown in the cutaway image. Fitted to the seat frame, it offers 3 inches of infinitely adjustable lumbar support.
Map Pocket
The map pocket is a good place for keeping things handy.
Seat Saver
Optional seat saver will keep your seats looking like new for years to come.
Order a Seat Saver with your custom seat and SAVE $5.00.
Seat Heater
Built in seat heater for cold winter wheeling.
Dirtsport Style
Puts vinyl on the sections of the seat that are likely to become dirty or worn easily.
"I always wanted a suspension seat but my preference was a reclining seat. When MasterCraft came out with the Baja RS I ordered a set for the Nightmare to check them out. These seats are extremely comfortable. The side and thigh bolsters hold you in place and are still easy to get in and out of. The reclining mechanism works flawlessly. MasterCraft quality is second to none. I can say from experience you will not be disappointed." Jim Creel