Buckaroo Hood
Item #: 5800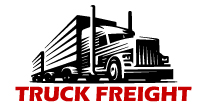 NOTE Shipping is not free. We will shop the freight carriers in order to get you the best possible price. We will contact you within one business day by phone or email to advise you of the shipping charges and total.
Your order WILL NOT SHIP until we receive your confirmation.
PRICE:
Buckaroo Hood
The all new WH "Buckaroo" fiberglass hood is here. This is the hood we've always wanted. There's tons of clearance for taller air cleaners or EFI. It has a distinctive aggressive look. The front Ram style air ports can be opened up for air flow to aid in engine compartment cooling. The Buckaroo comes with our WH exclusive under hood brace. The WH under hood brace utilizes flat hood pin structure which makes hood pin installation a snap. All stock mounting hardware can be used but we always recommend hood pins for safety.
These hoods are only offered in the deluxe version with the under-hood bracing.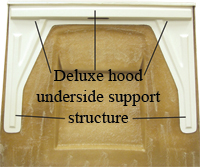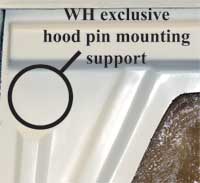 The
Deluxe Hood
allows you to use your original hood latching hardware from your stock hood. These deluxe hoods have a built in support structure on the underside to add rigidity and strength.
We have added a flat spot on the support to facilitate mounting hood pins.
This hood utilizes a two piece mold design which allows for the rolled and finished front lip.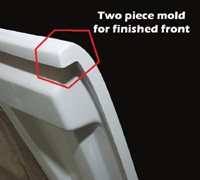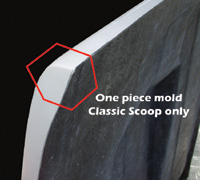 You will need to either reuse your old hood hinges or our new stainless steel hinges to mount the hood to the cowl. We always recommend the use of hood pins, especially considering how many calls we get about hoods popping open on the freeway and smashing over the top of the Bronco. Also see additional glass body part info on fiberglass body page.
Important Note: All hoods and hood scoops come with a white gel coat. They do not come painted.
Watch the Video!
Buckaroo Hood
May 9, 2013 | By Dan S.





This is by far the best looking hood I could find anywhere. Fast shipping and great service.
Buckaroo Hood
Dec 5, 2012 | By LesKey





Very well made and fits like a glove, highly recommended!!! Hinge kit is a must. Thanks
Buckaroo THE best hood...
Jan 19, 2012 | By Daddy4zack





Great Condition out of the box.. Just a little bit of prep work and paint. Great hood.. Aaron
Buckaroo hood
Nov 19, 2009 | By John C.





The buckaroo hood fits great. I'm glad I went with it. Looks even better in person!!
awesome
Apr 11, 2008 | By fordtrucksrule03





This hood by far is the best looking hood ever!!! Its awesome. The fit is perfect. Its worth the price.
Write a review